1. Send 10-15 requests per trip.
During peak season, Operators are flooded with requests. By keeping the requests to 10-15 this allows Operators to manage the requests in a timely manner.
2. Send one trip request per Operator.
In the example below, the Operator shows up twice in the search results for the same aircraft and trip. Operators request to please send one aircraft request for this trip. They will provide a quote for an alternative aircraft if the requested aircraft becomes unavailable.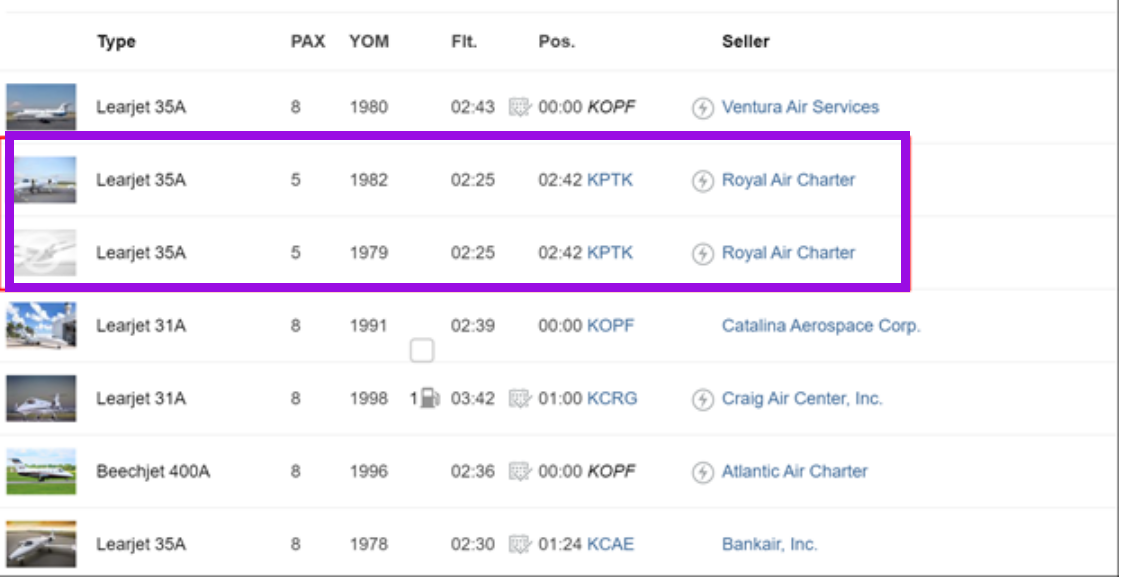 3. Select aircraft with minimal position time.
For example, the search results highlights the POS time. This means the Operator will need to fly this distance to pick up the passenger. If the POS time is similar to the flight time-- especially for a small aircraft it's unlikely the operator will bid on the quote. Look for flights with short POS time.
Green= Highlights minimal position time.
Red= Highlights excessive position time.
4. Source ASAP trips with Takeoff Ready.
This feature was specifically designed to help Buyers find aircraft with pilot and crew, owner approval, and available for charter for the next 96 hours.
· Pilots and crew available for the next 96 hours
· Owner approved trips for the next 96 hours
· Pilots and crew with Wyvern/Argus rating for the next 96 hours
· Owner approved trips for the next 96 hours
· Tip: Mouse over the airplane to see who confirmed the Takeoff Ready aircraft.
5. Add a good message when sending the trip request.
Reduce the back and forth and save time on the Operator's response by adding the quoting requirements upfront. For example, asking for a quote with 2 pilots.
Still having a hard time finding an aircraft? Try out the Trip Board. Avinode will send your Trip Board post to Operators to help facilitate the deal.