Flight duty and rest reports allow you to customize and select from various data fields that are relevant to your reporting. You can also create a template with your selected data fields to reuse for frequently generated reports. When presenting to external parties, you can easily export these reports in different formats.
Maintaining your flight logs

Presenting reports to your POI

Payroll for per diem pilots
PROCESS FLOW
Crew members enter data into the Schedaero Crew App

Individual pilot duty logs

Flight logs

Crew member events entered into the schedule page

Rest period

Other crew schedule events

Reports are then generated using these data points
Learn more about flight logging, duty logging and crew scheduling

SETTING UP REPORTS
There are no additional steps required to enable reports. The only requirement is to ensure you and your team have the appropriate permissions to access the flight duty rest report page.
Creating A Template
Creating a template is helpful when you need to generate recurring reports with specific data fields.

Click on People

Select Flight DutyRest Report

Click on Template Library

Click on + Add

Select your desired data fields you'd like to display in your report

Selecting Make default view will display the report in the dashboard view

Show empty days will display every day of the month regardless of pilot activity (recommended)

Show YTD will show table tallying days off and block hours per quarter (recommended)

Click Save
Date Fields
You can select data fields for Duty, Flight Logs, Totals, Scheduled Events, and Scheduled Types.
Duty:
Start/End

Total Duty

Prior Rest: easy to read column for rest compliance! (reccomended)
Total time: shows the total flight time during a duty period. (reccomended)
Total legs: shows the total flight legs during a total period. (reccomended)
Notes: shows any notes from the duty log (only available for export in the .csv format)
Flight Logs:
Trip ID

Aircraft

Routing

Position

Night

Instrument

Flight Time

Block Time

Total Block

Out

Off

On

In

Day Take Off

Day Landing

Night Take Off

Night Landing

90-Day Take Off

90-Day Landing

Notes

Regulation
Tip - Select only the relevant data fields to generate the cleanest report and prevent it from spilling over to multiple pages
Totals:
Duty Hours

On/Off

Rest Periods

Scheduled Hours

Night Time

Instrument Time

Flight Time

Block Time

Day Take Off

Day Landings

Night Take Off

Night Landing

90-Day Take Off

90-Day Landing

90-Day Night Take Off

90-Day Night Landing
Scheduled Events:
Start/End

Type

Total Scheduled
Scheduled Event Type:
Customized Scheduled events for Crew created under settings
Tip: We recommend selecting all scheduled event types
Elements of the Flight Duty Rest Report
Dashboard - Displays your default report

Template Library - Manages your custom reports

Audit Log - Displays all exported reports
EXPORTING REPORTS
Schedaero allows for the report to be generated in PDF (portrait or landscape) and CSV for additional customization. The more data the report contains the bigger the file, which may not fit on a single page. The report's accuracy will depend on all pilots completing appropriate flight logging and duty events.
Audit Log

The flight duty and rest report will show a complete audit history of any generated report. It will show the pilot name, who it was downloaded by, start date, and end date. In addition, the user will be able to go directly to that report.
OTHER REPORTS
Similar to crew member related reports, you can generate detailed reports for your flights.

Generating A Flight Leg Export

Click on Company

Click on Reports

Click on the 🔽 button

Select Flight Leg Export

Enter the desired date range

Click Generate Report
Generating A Post Flight Report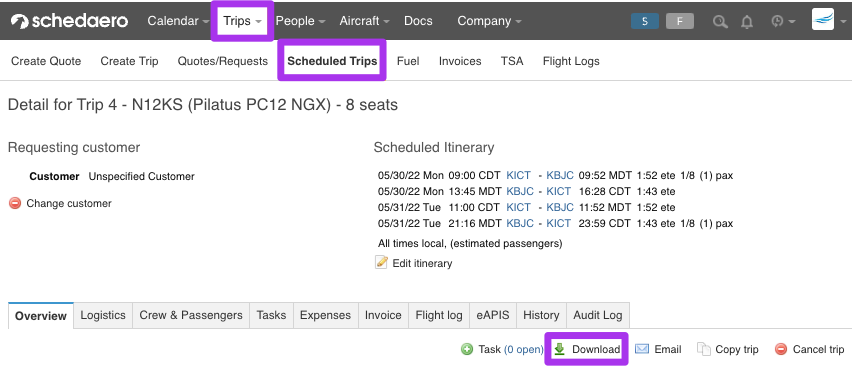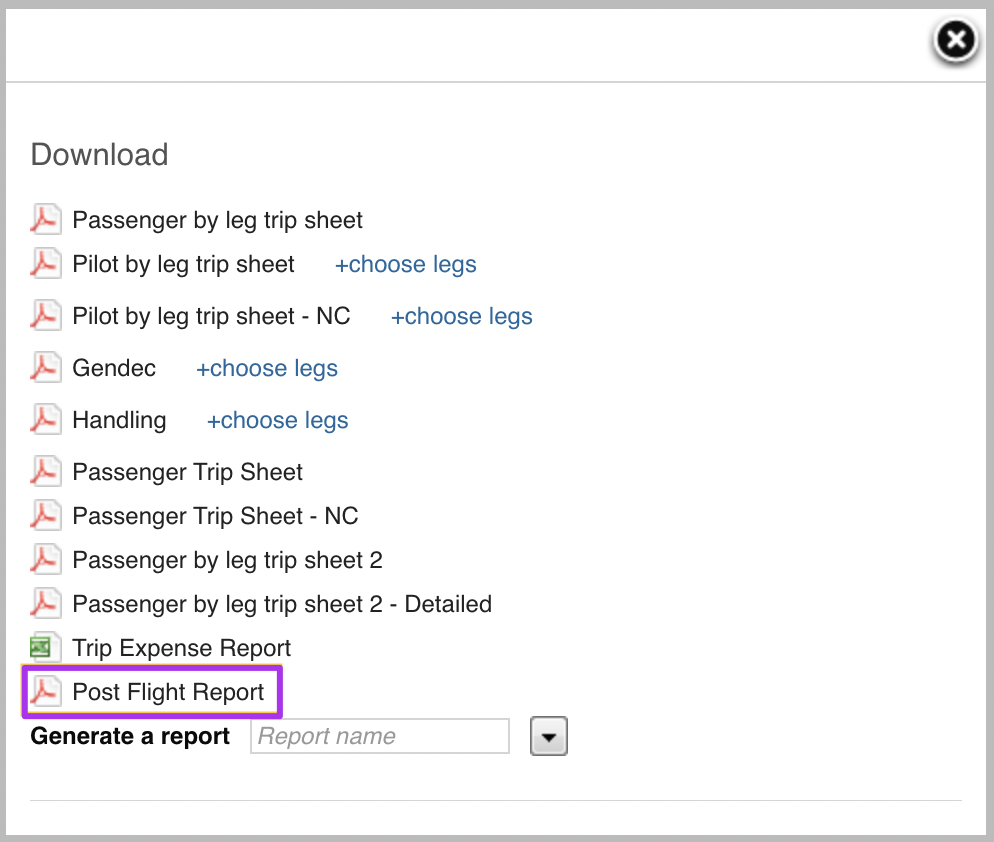 Click on Trips

Click on Scheduled Trips

Click on the pencil and paper icon for the desired flight

Click on the Download link

Click on Post Flight Report
---
Continue setting up your Schedaero Compliance and Flight Operations