Schedaero provides operators with a full suite of digital flight logging offerings:
Easy to use Crew App for pilots to complete flight logs from anywhere

Streamlined communication between cockpit and flight operations

Real-time insights into fleet aircraft times

Improved warnings to prevent overflying or missing critical aircraft due dates/times

Automatic updates to pilot currency items

Streamlined reconciliation of fuel burn and flight times for accounting
Flight logging preferences are set up once in Schedaero. Pilots then enter their flight logs for each leg after the trip has been completed via their crew app. Logs are automatically synced with the web browser and update airframe times, reporting, currency, and any integrations. Flight log verification tools allow operators to double-check their pilots' work.
---
FLIGHT LOGGING SETUP:
You will only have to configure your flight logs once in the Schedaero system. However, you can always make updates to your default settings.
Flight logging set up is located under Company → Settings. In the general tab, navigate down to the section "Flight Logging Configuration".
NOTE: all of the Flight logging configuration section settings are FLEET WIDE and will apply to all of your aircraft flight logs.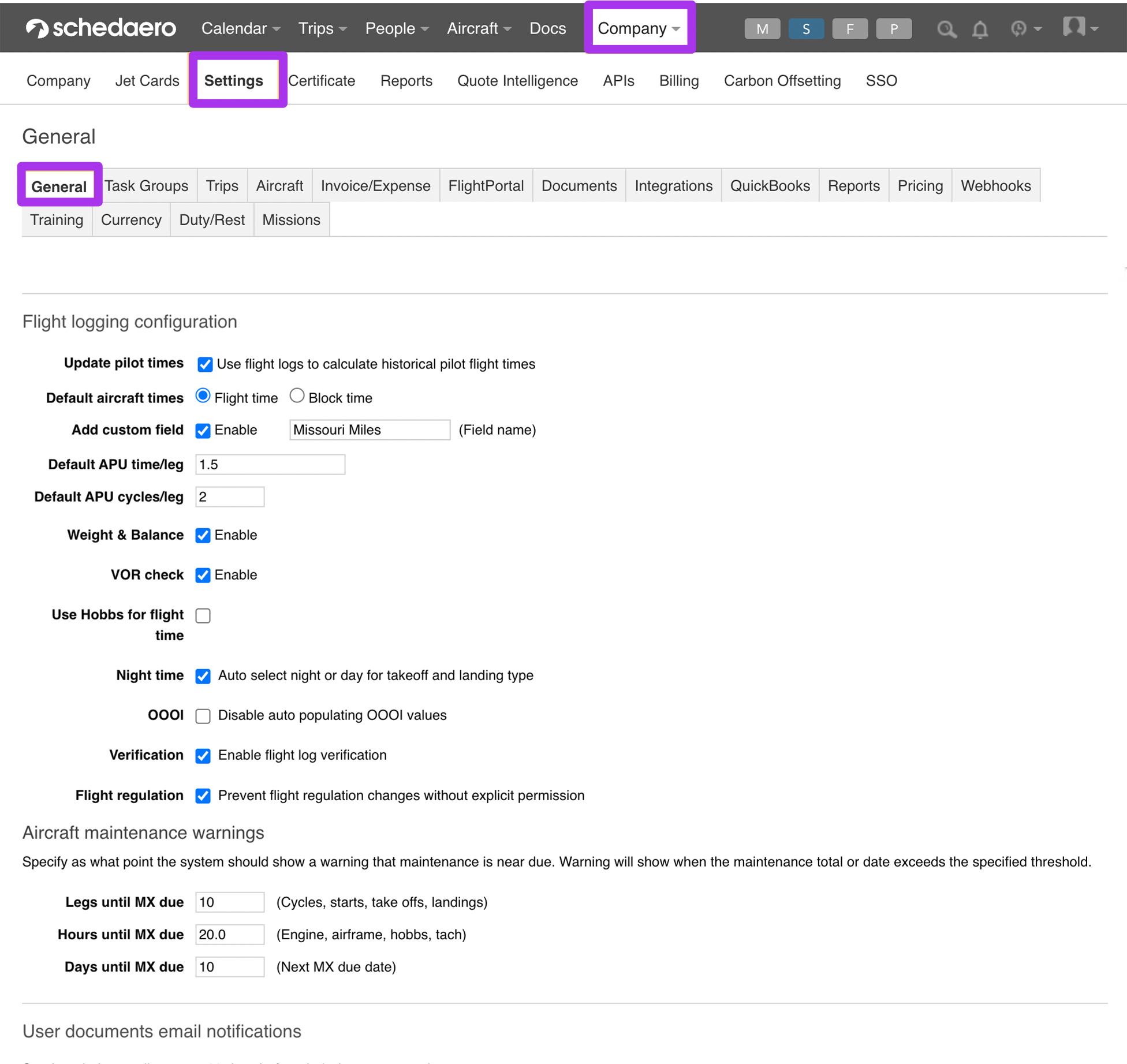 Setting Descriptions
Update pilot times: this setting applies only for the Wyvern integration. Schedaero will use completed flight logs to update the Total Flight times on the pilot's profile and push those times over to Wyvern.

Default aircraft times: Determines if you want the aircraft totals to be updated by flight time or block time.

Add custom field: Schedaero provides you with the option to add a custom field to your flight logs. Custom fields show on flight logs in the app and flight log reports. This is a manually entered alphanumeric field, there are no calculations. For example, Missouri-based operators often like to track the miles flown over Missouri for state tax purposes.

Default API times/cycles: determines what the system flight logs will default/fill with. Pilots will be able to edit these defaults in the Crew App.

Weight & Balance: turns on the ability to add weight and balance inputs to the flight logs. Schedaero will not calculate the weight and balance put provides fields for T/O Weight, Max T/O Weight, Fwd CG Limit, Aft CG Limit, CG Computed. The entrants will be permanently saved with the flight log for your records. Schedaero will never delete any data.

VOR Check: turns on the ability to enter VOR checks for each of your aircraft and allows pilots to complete them on the Crew App.

Night Time: selecting this box will automatically select night or day takeoff and landing type based on the Out/In times entered by the pilot. Schedaero runs the departure and arrival times through a daylight calculator that is based on civil twilight. This setting is highly recommended.

OOOI: By default, flight logs will populate with the scheduled flight times as the OOOI. If you prefer to have these fields blank when you open a new flight log, select this box.

Verification: Enables the flight log verification box for all flight logs in the system. We strongly recommend this feature.

Flight Regulation: when you select this box, pilots will not be able to change the flight regulation via their Crew App flight logging. This was put in place to maintain operational compliance. We strongly recommend this setting for part 135 operators.
Don't forget to save any changes to the settings pages.
Other Flight Log Settings and Options
There are additional flight log settings that the Schedaero team can turn on for you if you would like to opt-in. Email your customer success manager or support@schedaero.com to have them turned on.
Fuel units

Select the default fuel added and burn units.

Gallons

Pounds

Liters

Kilograms

Use Hobbs for flight time

This option removes the off/on times entry fields from your flight logs and will use the entrants from your Hobbs time to calculate flight time.

Your taxi time gets split in half based on the Hobbs flight time and your out/in times.

For example, if your flight log entries are:

Out - 09:00

In - 12:30

Hobbs of 2.0 hours

Total Block time = 09:00-12:30 = 3.5 hours

The system will calculate [3.5 - 2.0 = 1.5] -> [1.5 / 2 = .75] hours of taxi time each end
Tracking Hobbs and Tach Time
Schedaero offers operators the option to track Hobbs and/or tach on their flight logs. This can be set up by tail.
Navigate to Aircraft→ Aircraft Logs and select the appropriate tail. A drop-down with aircraft information will populate. Under the Airframe section, select the track Hobbs or track tach checkboxes: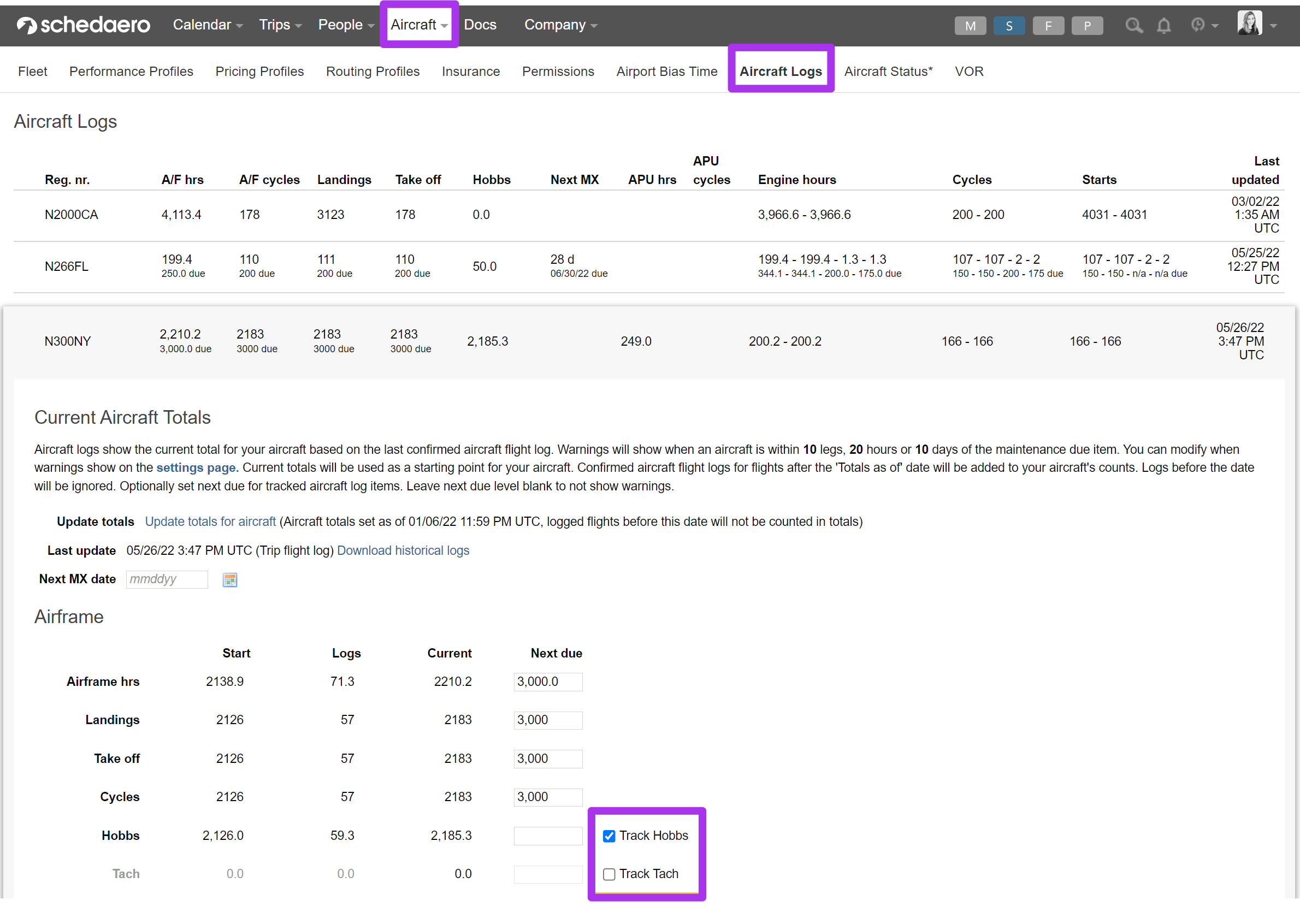 When your flight log settings are complete, your pilots can add their flight logs directly through the app. To optimize flight logging in Schedaero, we recommend that pilots complete their flight logs in real-time via the Crew App.
Once a flight log is complete, the system will automatically update pilot currency items and aircraft times.
System administrators or anybody with the flight logging permission can then go into Schedaero web to edit and verify flight logs once they are completed.
---
REVIEWING, EDITING, AND VERIFYING FLIGHT LOGS:
Within the Schedaero web platform, there are two ways to navigate to your flight logs:
1. Access the scheduled trip overview using the flight logs tab. This will only show you flight logs pertaining to that specific trip. It also provides a complete audit log of any changes made to the flight logs.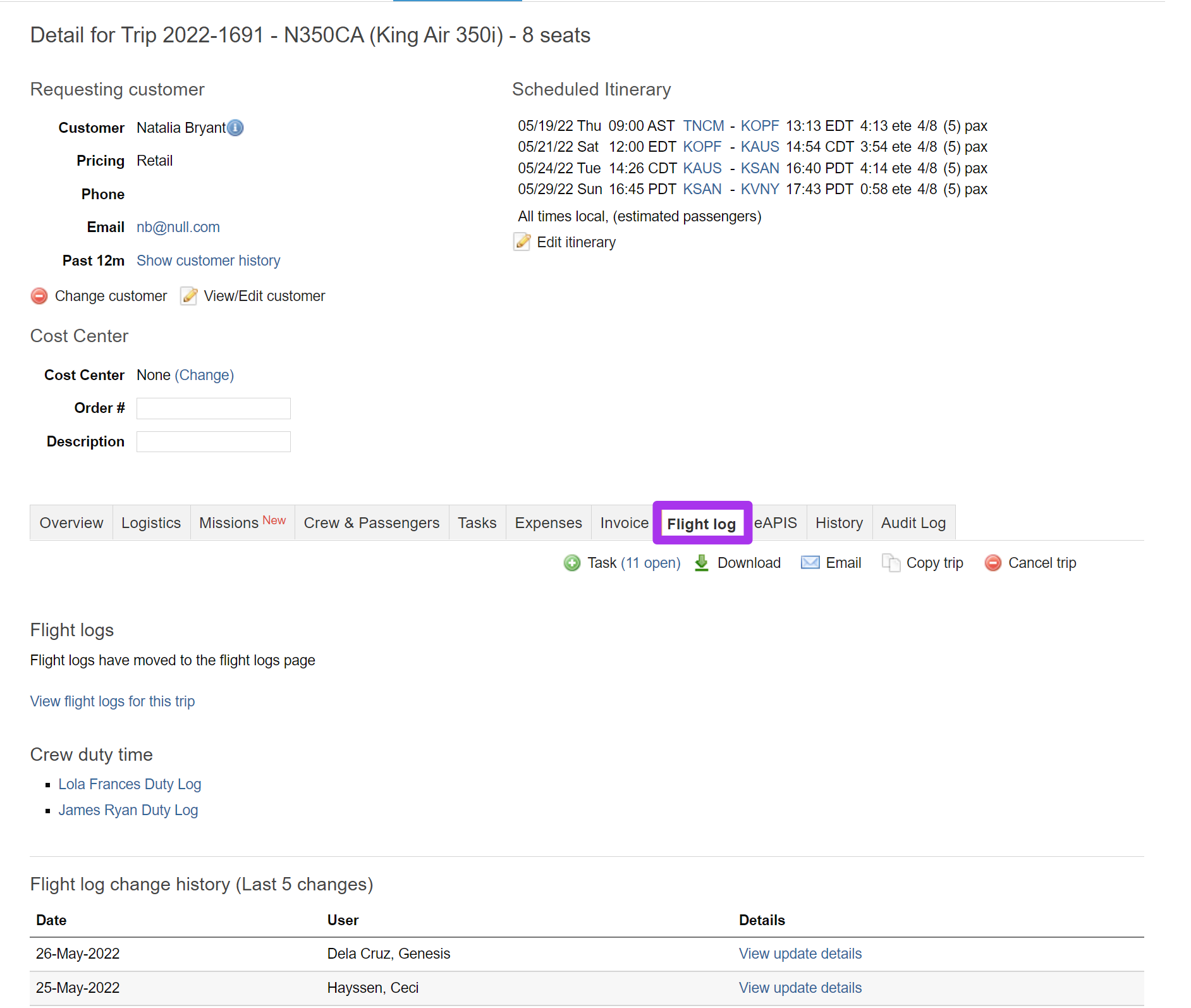 2. Trips→ Flight Logs provides an overview of all the flight logs in your fleet. You can filter by:
Status (complete or incomplete)

Trip ID

Crew member

Aircraft

Verification Status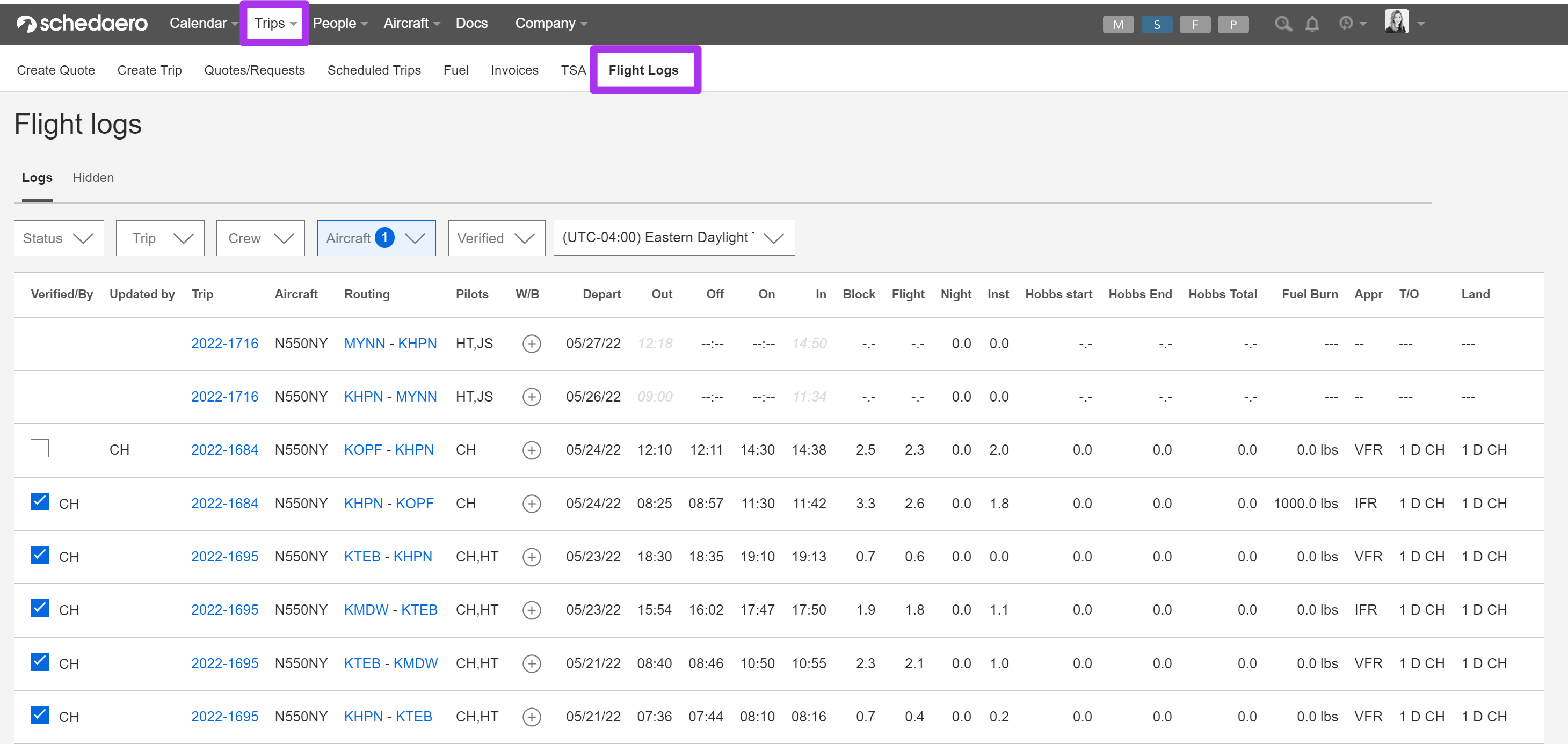 To edit or review a flight log, select the line for the log you wish to review, and a pop-up window will generate. From here, you can make any edits to the flight log.
NOTE: If a log has been completed, you cannot make any changes to the itinerary. For example, if they completed the flight log with the improper flight regulation. To make changes, you will have to reset the flight log, make the changes to the itinerary on the trip page, and then re-enter all of the flight log information.
Weight and Balance
If you are logging weight and balance in Schedaero you can review/edit any entries on the flight logs page. The W/B column will permanently store all of your records with the logs.
Verification
If you have turned on flight log verification in your flight log settings (see above), there will be a verified check box on the flight logs list. Users must be given specific permission to be able to verify flight logs.
Once you have reviewed a log, select the checkbox. Your initials will populate to signify who completed the verification. Hover over the initials to see a time-stamp.
If changes are made to the flight log after verification, the verified/by box will automatically uncheck and there will be initials of who made the changes in the "Updated By" column. Hover over the initials to see a time stamp.
Follow the hyperlinked trip and you will be directed to the flight logs section of the specific trip where you can review the flight log change history to get more details on what was changed, by whom, and when.
---
AD HOC FLIGHT LOGS:
Often, pilots will complete flight time outside of the organization. Whether it be flying for a different company, outside training, or simulator time. Schedaero offers a way to add that flight time in the form of an "ad-hoc flight log" so pilots can have all their record-keeping in one place. When an ad-hoc flight log is added to Schedaero, the flight times, approaches and landing will be properly attributed to all currency items.
To add an ad-hoc flight log:
1. Navigate to People→ Pilots and select the appropriate pilot.
2. On the pilot's profile, select the flight logs tab.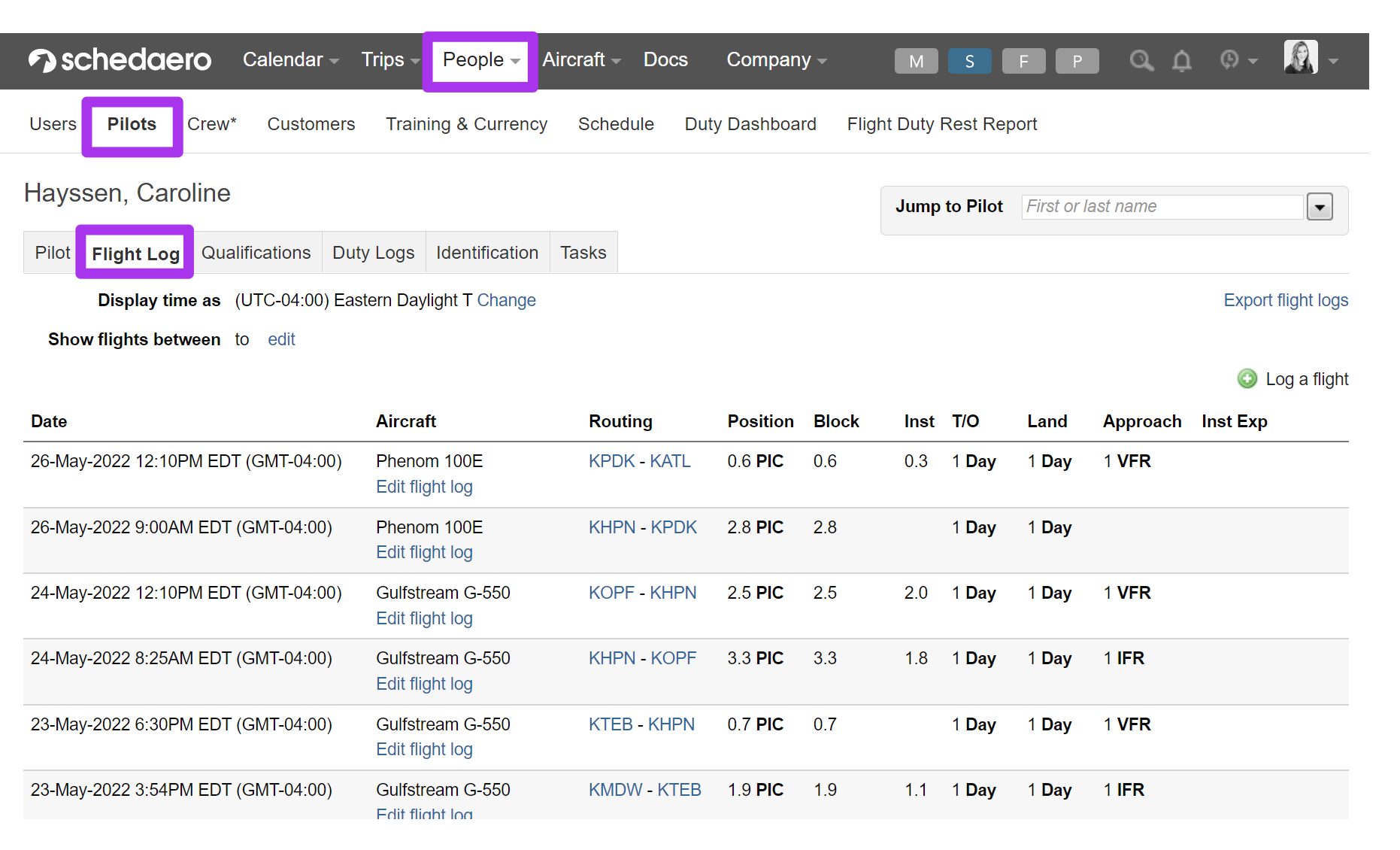 3. Select the +Log a flight link and a new window will populate on the screen.
Complete all fields and save.
You can select an aircraft from your fleet or you can search for an aircraft type by typing into the aircraft drop-down.
NOTE: the check box option to log from a simulator.
Any ad hoc flight logs will contribute to the appropriate currency item for the pilot.
All system flight logs will be available for reporting in the Flight Duty And Rest Report.
---
Continue setting up your Schedaero Compliance and Flight Operations